THE STONED CHERRIES – BAKED IN A PIE
New CD released by Bromyard Folk Rock Band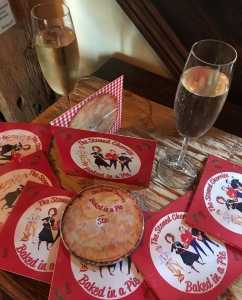 Popular Bromyard-based Folk Rock band, the Stoned Cherries, have released their first CD, "Baked In A Pie". It is a lively and enjoyable mix of traditional tunes and largely original songs and is a close representation of their live act.
The band features:
Roger Pugh – vocals, mandola and acoustic guitar
Dave Evans – vocals, acoustic and electric guitars and mandolin
Aly May – whistles and backing vocals
Matt Donaldson – bass, percussion and backing vocals
Roger and Dave write the majority of the songs the band perform.
The album opens with Morrisons, a lively Irish reel led by Aly on the whistle: other set of tunes include the timeless Si Bheag, Si Mhor from 17th century harpist Turlough O'Carolan, Roger's Witches Flight and the wonderfully titled Oysterwives Rant and Ballydesmond Polka.
Dave Evans is an accomplished songwriter and his Rosalind is a favourite around Bromyard. Even more nostalgic, if not quite as innocent, is Lemon Girl, a suggestion of what might be achieved with a spare bit of fruit during WWII. House In The Woods is not one of Dave's songs but he's made it his own in sessions around Bromyard. Forgotten Man and Day's End are altogether more serious and poetic and deserve repeated hearing.
Roger Pugh is a highly regarded and prolific songwriter with an extensive range of songs. Run With The Moonlight provides advice to his 16 year old son, advice we could all heed whatever our age! His Final Arrangements tells us how to dress at his funeral and reveals his view of life (and death). Dance Of The Seven Suns celebrates nature and the risks it faces. Cottage is a personal favourite of mine and tells of a simple life lived on Offa's Dyke near Knighton. Finally, Down At The Billet On Boxing Day records what Roger does every Boxing Day down in Leigh-on-Sea, his home town.
If you have enjoyed the Stoned Cherries live then this cd will remind you of what you heard. But it does go a little further as the cd features elements not so easily achieved live and makes for repeated listening. Their repertoire shows how catchy and lively music can be created without resorting to hackneyed and overdone material. The original songs are all of high quality and you will want to sing along even after just a couple of hearings. The tunes also sound fresh and original.
See more on the Stoned Cherries website.
More about Roger Pugh here.
To see the Stoned Cherries live go to:
Friday 1st September – The Globe, Hay-On-Wye, 8.00 pm
Friday 8th September – De Koffie Pot, Left Bank, Hereford, 9.00