One of the best received songs on my People Watching CD is Monica Is Taller Than Me. I wrote a blog post with some info on the writing of the song a few years back and a minimally updated version can be viewed below.
This includes a very early demo version of the song and I found it interesting to compare with the final version from the CD which is availble below: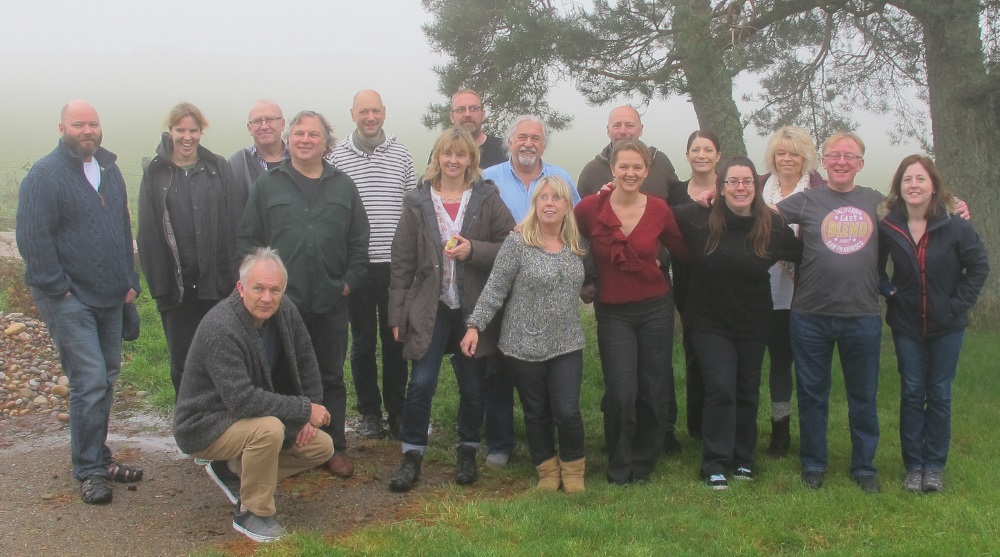 On the 1st November 2014 I left the tranquility of Moniack Mhor, near Inverness, to head back home to reality.
Moniack is used mainly as a writers' centre but a couple of times a year it is used for songwriting workshops. A wonderful experience I will come back to in a forthcoming post but suffice it to say I'd spent a great week with a bunch of fellow songwriters led and inspired by Boo Hewerdine and Edwina Hayes.
It's a fair old drive back south so I had booked into a small pub/hotel in the Scottish Borders for the Saturday night. During the 6 hour drive I re-visited many of the events and learnings of the previous week and made resolutions to take my songwriting forward in a variety of ways. Driving through beautiful countryside, in no rush, is a great way of getting thoughts together.
I arrived at 4.00 pm, had a beer while watching footie results, then a shower and then a doze. My head was still full of songwriting and I started writing a song in my room, still unfinished now, but let's not worry about that.
With this half written I went down to the restaurant, notebook and pen in hand, and finished the first pass at the lyrics. And then I started another, now called "Monica Is Taller Than Me". I won't tell the whole story (the song does that) but it was triggered by the sight of the waitress passing through the room. My first thought was "Isn't she tall!" followed by "Calm down, too young, too beautiful and definitely too tall".
By the end of the evening the words were pretty well complete but no tune started. So there the words sat until I got home to Bromyard when I picked it up again and, Hey Presto, I finished it off and got a rough recording together .
As I listened to it I noticed I'd picked up on a few bits of advice from the songwriting workshop. Boo had suggested making songs personal, which is why she is "Monica" and not "the waitress"; he also suggested giving songs intriguing titles, hence "Monica Is Taller Than Me" rather than just "Monica" which was its working first title.
We also looked at basing songs round everyday items rather than just grand themes. Those who were there may remember a set of lyrics I produced called "Clearing the Dishes Away". And this is kind of similar. An unusually tall waitress who ends up spilling vegetables on the floor is not high drama!
What maybe pleases me the most is a resolution I made driving from Moniack. That was to stop writing bloody folk songs, to stop being a folk songwriter and become just a songwriter. I'd like to think this song meets that aim, at least to a degree.
Here are the lyrics, if of interest. The guitar bit is in DADGBD, capoed up to F.
Monica Is Taller Than Me (Tony Burt)
Monica is waiting on tables, Monica is waltzing through tables
As she moves all the eyes are drawn unto her
Monica is taller than me, three inches taller than me
She knows exactly what she's doing, she's in control of what she's doing
I think she has noticed that I'm watching her
Monica is taller than me, looking right down on me
Her mouth is small, her lips are juicy
Her eyes, Scottish grey, her nose retroussé
Monica's not really her name, in truth I don't know her name
I have to call her something, I have to call her soon
Shooting for the moon, I'd just be shooting for the moon
Monica's much younger than me, noticeably younger than me
I know that I can dream, but I'm really what I seem
Monica's taller than me, thirty years younger than me
Her mouth is small …
Now she is down on her knees, clearing up carrots and peas
My evening's nearly done, I'm not her kind of fun
She's so much taller than me, she's so much younger than me
Monica is taller than me
© Tony Burt 2014. All Rights Reserved.
PS – any guesses as to where the apparently random choice of "Monica" came from. I've only just realised myself!