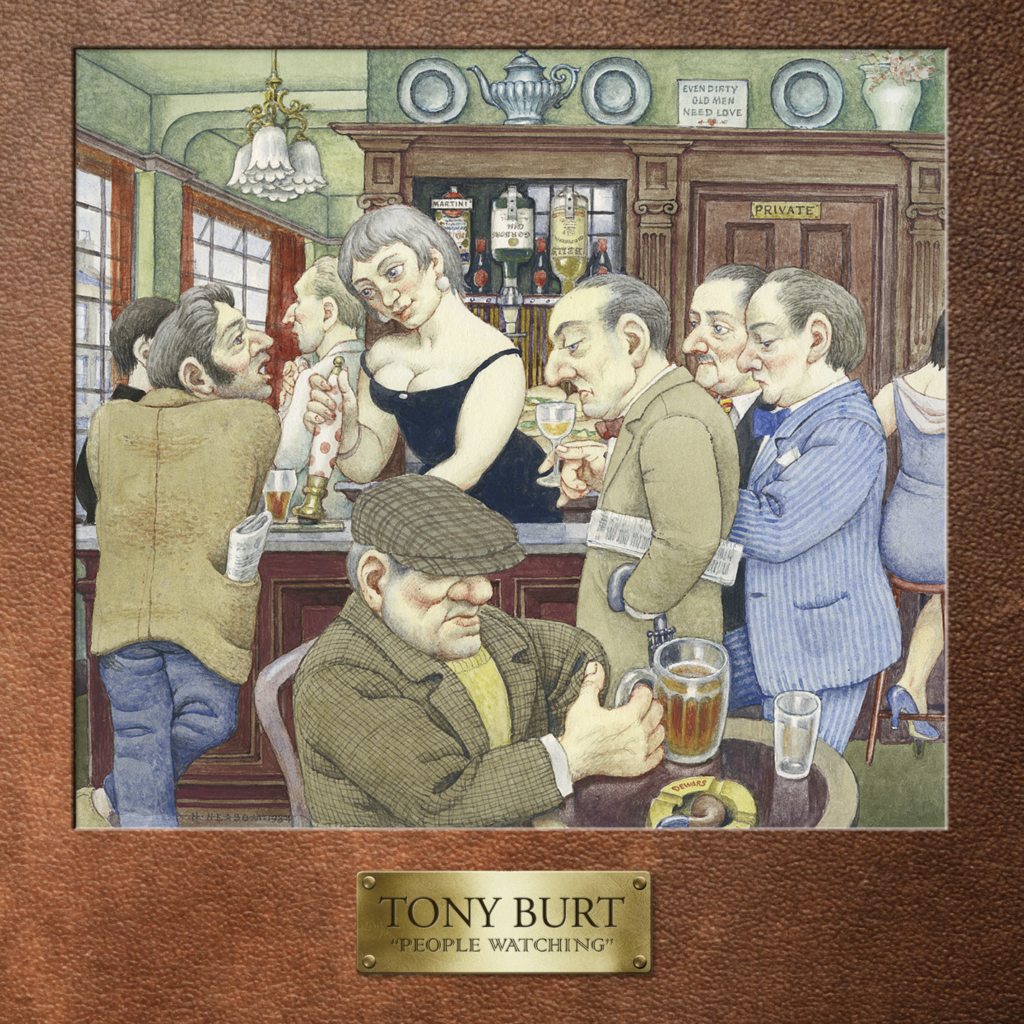 Artist – Tony Burt
Title – PEOPLE WATCHING
Label – Mirror Blue Records MBCD010
For immediate release
Since the 60s Tony Burt has sung and played in folk rock, traditional Irish and 60s covers bands as well as solo appearances in clubs, pubs and at festivals. Since 2005 he has shifted focus to writing and composing his own songs. His thought-provoking work is based on a deep understanding of English, American and Celtic folk melodies and admiration for the poetic lyrics of Bob Dylan, Richard Thompson and many other greats.
Tony explains: "I want the words of my songs to grab the attention of the listener. Sometimes with ambiguity, sometimes with startling imagery, sometimes with an unexpected rhyme – or even the absence of rhyme"
Tony's latest record, "People Watching", comprises ten original songs, produced by Boo Hewerdine and recorded by Chris Pepper at Saltwell Studio, near Huntingdon. Tony sings and plays guitar and mandola. Boo adds an array of string and keyboard instruments, along with backing vocals, with Chris adding percussion in places.
The title track, "People Watching", was written in the Kings Arms, in Cleobury Mortimer, near Ludlow. "I find people fascinating and by quietly observing I can invent original stories which, whilst not factual, can be true to life. It's also a great pub and I spent 2 or 3 happy and creative sessions in there"
"Monica Is Taller Than Me" tells of an unusually tall, elegant and refined waitress encountered in a slightly old-fashioned Scottish Borders restaurant. "I'm too old to chase girls now so this is an example of wistful, lust-free admiration with a hint of nostalgia for earlier days"
"The Village" was inspired by the harrowing story of Freddie Spencer Chapman who fought behind enemy lines in Malaya in the 40s together with local partisans. "Rock Me In your Arms" stems from occasional bouts of depression with the core message: "I'm in the dumps, gimme a cuddle!" "JJ's Bar" recalls happy times in a remote rock music venue in Luxor, Egypt.
The lyrics of "If I Were A Wish" were written as a poem by Tony's wife, Brigid, some years ago. Tony observes: "Within minutes of seeing the words the song emerged. When we first ran through it in the studio Boo pointed out it sounded a bit like the Moody Blues so we added the mellotron part which to me sounds spot on!"
"It was a great experience recording with Boo and Chris" says Tony. "We worked hard at polishing the sound but also had time for plenty of laughs along the way"
All the songs on PEOPLE WATCHING are by Tony Burt except "If I Were A Wish" – lyrics by Brigid Burt, music by Tony Burt. Apart from Tony on acoustic guitar, mandola and vocals he's joined by Boo Hewerdine on backing vocals, acoustic and electric guitar, mandola, mandolin, ukulele, harmonium, dulcitone, marxophone, mellotron, melodica, harmonica and Chris Pepper on drums, percussion.
Cover design by Martin Rowsell at Simply Marvellous Music and the front cover image, 'Barmaid in Black Velvet' is by Norman Neasom RWS, RBSA.
For more information and the latest tour dates, please visit tonyburt.co.uk
For all media enquiries, please contact James Soars 01536 720245/07758781032 Email. james@jameshsoars.com