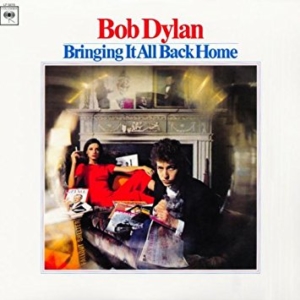 Bringing It All Back Home by Bob Dylan was in many eyes (including mine) one of the most important and influential albums of all time. Half the songs had an electric band backing and the lyrics were personal, surreal and poetic and couldn't have been further from protest song.
It was released in March 1965 and as far as I can recall I bought it with a mixture of birthday cash and a gift voucher from the Coop in High Street, Birmingham. On my original vinyl copy you can still see the price – 32 shillings and seven pence about £1.62.
I was just 15 and my parents thought I had gone bad when they heard this strange music I filled my evenings with. After all what was wrong with Frank Ifield and those cheeky lads, Freddie and the Dreamers?
I played it at least once a day for weeks and once a week for months thereafter. I knew all the lyrics to every song (at least those I could decipher). When I got my first guitar I learned to play several of them. "Mr Tambourine Man", "Gates of Eden", "She Belongs To Me" and of course "Love Minus Zero/No Limit" which was one of the very first songs I ever played and sang.
I never understood the title but figured out nobody was meant to. I was intrigued by many of the lyrics … "she knows too much to argue or to judge" or "she knows there's no success like failure, and that failure's no success at all". I've played the song all my life, changed arrangements from time to time, never got tired of it.
Bob Dylan remains a major inspiration to me after more than 50 years. I have added more favourites but no artist surpasses Dylan although a few come close.
Here's a recording I made of it in 2015 at the Old Smithy Studio in Kempsey near Worcester:
 Love Minus Zero / No Limit by Bob Dylan. Recorded by Tony Burt
Owners' Rights Acknowledged
My love she speaks like silence, without ideals or violence
She doesn't have to say she's faithful, yet she's true, like ice, like fire.
People carry roses, and make promises by the hours
My love she laughs like the flowers, valentines can't buy her.
In the dime stores and bus stations, people talk of situations
Read books, repeat quotations, draw conclusions on the wall.
Some speak of the future, my love she speaks softly,
She knows there's no success like failure, and that failure's no success at all.
The cloak and dagger dangles, madams light their candles.
In ceremonies of the horsemen, even the pawn must hold a grudge.
Statues made of match sticks, crumble into one another,
My love winks, she does not bother, she knows too much to argue or to judge.
The bridge at midnight trembles, the country doctor rambles,
Bankers' nieces seek perfection, expecting all the gifts that wise men bring.
The wind howls like a hammer, the night blows cold and rainy,
My love she's like some raven at my window with a broken wing.